The Madelia Health Foundation 18th Annual Golf Outing was held on Tuesday, June 6th. This tournament has been extremely popular and highly successful for Madelia Health. 76 golfers (a full roster) were on the course in support of Madelia Health. The golf outing raised over $20,000, the most in our history for this event! The proceeds will be used to purchase new surgical equipment.
Event Sponsors:
Christensen Communications Company
Eide Bailly
Hopman Farms
101.5 The EMOJI, Lakes 106.5 FM, KSUM 1370 AM
Design Home Center
Voya Financial
Clubhouse Sponsors:
Alliance Bank
Sorenson True Value
Hole Sponsors:
American Family Insurance-Brian McCabe Agency
David Walz & Roz Snyder
VOYA Financial
Kraus-Anderson Construction Company
Pietsch Construction
Wold Architects & Engineers
Preferred Printing
Madelia Insurance Center
C&B Operations – St. James
There were also eight Hole Co-sponsors, and over 30 volunteers from the Madelia Health Governing Board, Foundation Board, caregivers and the community. Many others donated to the event. The evening included nine holes of golf, hole-in-one and flag contests, a golf ball roll contest, prize raffle and a dinner.
The Golden Bedpan Golf Ball Roll started out the evening and was sponsored by Christensen Communications. Glenda Arndt was the winner of the $500 prize!
Flag contest winners from this year's outing were as follows:
Longest Putt: Tom Kunz
Closest to the Pin: Jane Malmskog (donated her winnings)
Women's Longest Drive: Brenda Christensen
Men's Longest Drive: Cody Steinbrink
The "Hole In One" Contest was again held on Hole 8, but no one was able to claim the $25,000 toward a Ford vehicle, sponsored by Madelia Ford and Pioneer Bank. On the Green for 1/2 the Pot Contest Winner: Garrett Freeman ($220).
The Foundation awarded cash prizes to the first, ninth and sixteenth place teams. The First Place Team for the second year in a row was Team Cerny! Team Cerny graciously donated back their winnings! The 9th Place Team was Madelia Health's Varsity Team, and the 16th Place Team was Madelia Health's Party of Fore.
Thank you to the many businesses and individuals who donated to make this event successful! A special thanks to Tony Downs Food for donating the chicken breasts for the dinner and Madelia Health Dietary and Keith Kilmer for making the meal. Also thanks to The Lakes for the potato salad and Sweet! Indeed for the cookies. It was a fantastic night on the course with humor, great weather, camaraderie and impressive golf.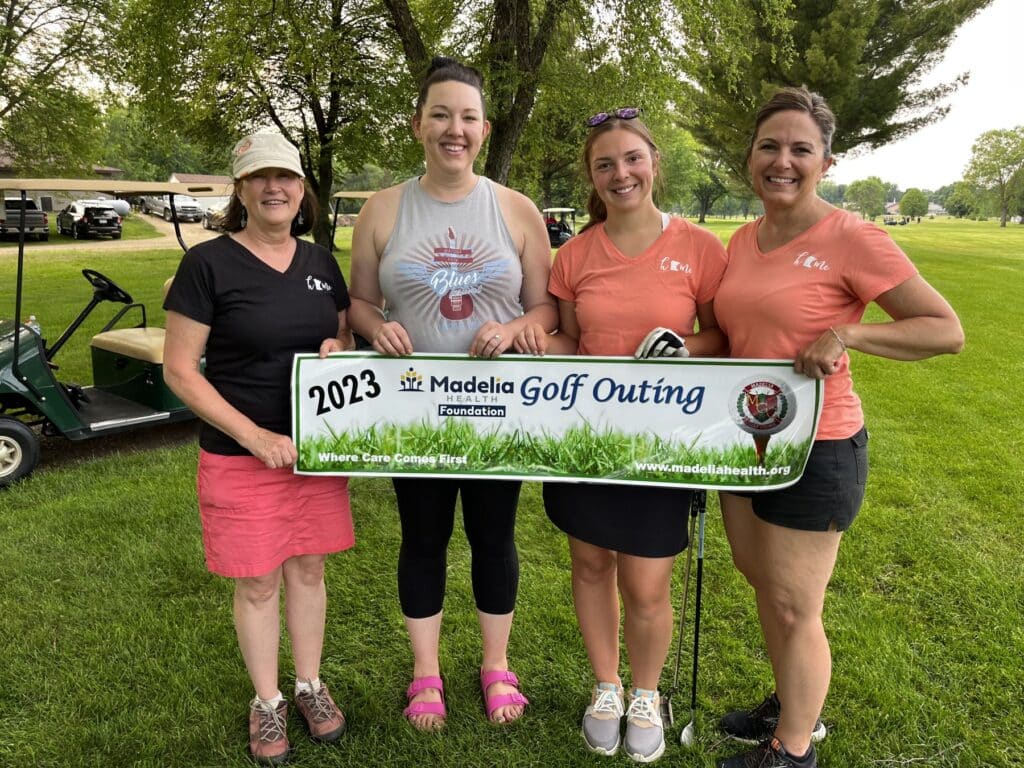 Thank you to our volunteers and all that participated!